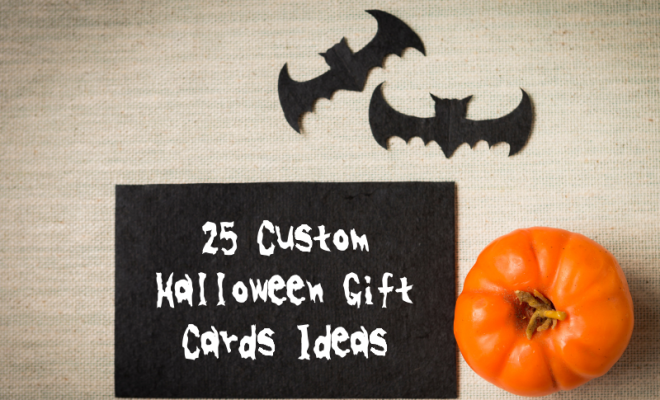 25 Custom Halloween Gift Cards Ideas
Halloween is a joyous time of year full of tricks and treats. While some individuals are utterly uninterested in this holiday, many others do not wait for October to arrive so they can start putting up spooky decorations, planning the ideal costume, and watching their favorite Halloween movies. Check out these 25 Halloween gift card ideas if you want to offer someone a gift card for Halloween.
Happy OWLoween
Bring out the tape, scissors, and glue sticks. Werewolf, vampire, witch, and ghost designs come with gift cards, but you may choose your own or tuck a message inside.
Costume Card
Costumes may be costly to make. A gift card to a fabric, craft, or beauty supply store can help the recipient's Halloween budget.
Halloween Doormat
Do you need a family-friendly gift? You may add a personal touch to your recipient's Halloween decor this year with the doormat Halloween gift cards ideas.
Halloween Printables
Try the free printable Halloween gift cardholders if you want the convenience of gift cards and want to DIY your Halloween presents.
Candy Cornucopia
It is a Halloween present that is easy to create with a foam brush, yellow and white paint, and a steady hand.
DIY Halloween Crafts
One of the best parts about Halloween is all the exciting art projects. This Halloween, there is lots to do, from carving pumpkins to decorating the house.
Halloween Gift Cards Ideas – Happy Treats Gift Card
This Halloween, forget the tricks and offer all sweets with the new Happy Treats gift card from the Happy Card Gift Card collection. You may use these gift cards at any of the restaurants listed.
Dancing Skulls Treat Bag
These rattling skeletons will be the life of the party on Halloween! Fill this spooky bag to the full with your little goblin.
Stack the Bones Game
This stacking game's wooden pieces are shaped like bones, making it more challenging than Jenga. Love a Halloween challenge!
Frightful Fun Glass Candy Jars
The sight of this intriguing jar, filled with delightfully sweet snacks, will put a grin on the face of even the most fierce little Halloween spook.
Need a Halloween Party Goods? Party City has a lot to offer!

How To Check Your Party City Gift Card Balance

Ghost Candle
Scented candles may be customized in any color. Choose a classic fall scent like pumpkin pie or a year-round scent like sandalwood or fresh lavender.
Murder Mystery Jigsaw Puzzle
This murder mystery puzzle will elevate your puzzling time. You will place the puzzle pieces together and solve the crime as you read the story.
Glow in the Dark Blanket
Wear your fluffy slippers with this spooky blanket. It may be used as a decoration during the day and shines at night to show just the eyes and paw prints.
"Ok first off this blanket is sooooooo soft and snuggly. I absolutely love it and my kitties do too. I hang it outside on the line for an hour a day and it glows so amazingly beautiful." – Rocks
Gummy Kabob Candy
It is always wonderful to play with your food, and these candy kabobs are precisely that. Enjoy stacking them in any order!
Large Halloween Cookie Cutter Set
Stainless steel cutters can handle multiple batches of Halloween cookies. They are also large enough for kids to decorate.
Monster Mash Music
Send a music shop gift card before your grandson makes a Halloween playlist. This can get the party started, and it includes a battery-operated candle with the card.
"Great novelty song! Loved it as a kid & still do! The best thing is, perhaps, that this track costs almost 50% less than on iTunes. Even a rerecorded (yuck) version costs 30% less as well. Great job, Amazon! Looking forward to more bargains like these". – Julio
Light-Up Ghosts
These spooky light-up ghosts will be a hit with the tiny goblins that come to your home!
Screaming Witches
When guests come, creepy faceless witches scream. They make a big statement in the yard, standing about 6 feet tall.
Halloween Gift Cards Ideas – Vampire Vineyards
This Halloween gift idea requires the use of a gift card, but it is well worth it.
EASIER Version of Vampire's Favorite Gift Card
A set of vampire's teeth and a Happy Bites gift card are the perfect Halloween gift idea for those who do not want to go through all that trouble.
Black Cat Backpack
Fashion and function collide. A chic bag is lovely all year, but it is particularly charming around Halloween in the autumn.
Popcorn and a Movie
Send a movie gift card in a Halloween popcorn box. If movie theatres are unavailable, send a streaming gift card instead.
The Spell Book for New Witches
Do you want to attract good energy and avoid bad vibes? This "spellbook" may be of assistance to you. Nearly 10,000 people have given it five stars.
"The Spell Book for New Witches is an excellent introduction into witchcraft that debunks the myths surrounding this spiritual practice. Like all books on this subject, the information presented should be taken with a grain of salt as everybody's practice is different." – A.M. Nestler
Hedwig Cookie Jar
This Hedwig the owl cookie jar is ideal for holding all of your trick-or-treat candy for the Harry Potter lover in your life. It also works well as a year-round decoration.
Black Matte & Copper Wine Glasses
These black goblets are another fantastic Halloween beverage holder. How stunning would these be at an autumnal dinner party?