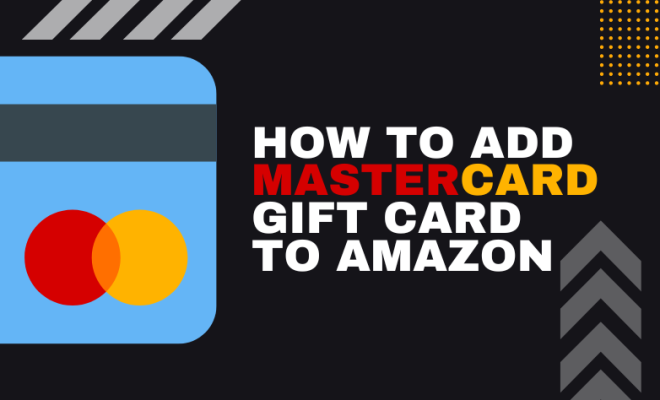 How To Add Mastercard Gift Card To Amazon
Prepaid cards and gift cards issued by Visa or Mastercard are popular choices for gifting. These cards are accepted anywhere in payment terminals, including online and offline retailers. So, are Mastercard gift cards accepted on Amazon and other online retailers? Yes, but how?
The good news is that alternatives to conventional credit and debit cards are available for Amazon purchases, like how to add a Mastercard gift card to Amazon. You may use the correct methods to redeem Mastercard prepaid and gift cards at online retailers. You can put this practical guide together to assist you in determining:
How to add a Mastercard gift card to Amazon
How to use a prepaid Mastercard on Amazon
Using Mastercard Gift Cards on Amazon Explained
Prepaid cards and Mastercard gift cards have certain similarities. Similar to credit and debit cards, they have set limits and may be used for several transactions once activated.
According to Amazon, there are already close to a dozen options to finish a purchase's payment via their app and website. The following businesses' gift cards and prepaid cards are among the acceptable payment options:
Mastercard
Visa
American Express
You may use Amazon gift cards and cards from these payment networks for your purchases. There are three methods to use up an Amazon qualifying gift card as of 2022:
Use it at the register.
Keep the card on hand as one of your preferred payment options.
Use the card to reload your Amazon gift card.
How To Use a Mastercard Gift Card on Amazon During Checkout
Here are the steps you must do to use your gift card to pay on Amazon:
Place the item or items you choose in your shopping cart.
Then select "Proceed to Checkout."
Select your shipping choices (address, delivery speed, etc.).
To add a card, choose it on the payment screen.
Enter the gift card information from your Mastercard:
Account number
Name on the card (custom gift cards may have your name; however, the majority of cards have "A GIFT FOR YOU" inscribed on them; you may use that in the name box).
Expires date
Finish by selecting "Add Your Card."
The gift card will appear on the list of accepted payment options alongside other cards that you have previously connected to your account once Amazon has verified the information. Simply choosing the card you wish to use and placing the order is all that is required. You can use both conventional and digital Mastercard gift cards with this option.
Need to check your Mastercard Giftcard Balance? Check it out here How To Check Your MasterCard Gift Card Balance
How to Add a Mastercard Gift Card to the Balance of an Amazon Gift Card
How to add a Mastercard gift card to Amazon? One of Amazon's recent payment policy enhancements is reloading your online gift card wallet. You may combine the value of many Amazon gift cards into a single source with this budgeting option.
You may refill your balance on the internet with various popular credit, debit, and prepaid cards, including Visa or Mastercard gift cards. Here is how to add a Mastercard gift card to Amazon:
Go to the main menu after signing in to your Amazon account.
Select Gift Cards from the Programs & Features menu.
Select Reload Your Balance under the Manage Your Gift Button.
Put in how much money you wish to reload (aka the value of your Mastercard gift card)
Under Payment Method, click on Add a Credit or Debit Card.
Enter your card information and hit "save."
Tap "Reload."
Once you're finished on how to add a Mastercard gift card to Amazon, your Amazon gift card wallet should correctly add the funds from your Mastercard. There is no time limit on the balance you reload.
Why Should You Use a Mastercard Gift Card to Top Off Your Amazon Gift Card Balance?
The restriction on order amount is the main drawback of using a Mastercard gift card as a direct payment option on Amazon. Order must fit inside the card's value, which isn't always possible. The most useful way to buy on the internet is by adding your Mastercard gift card to your Amazon gift card balance since it enables you to:
Split payment techniques. You can use your Amazon gift card balance with a different debit or credit card to make partial payments on Amazon. To match the balance on your gift card, you don't have to adjust the price of your order.
Use every dollar on the card. It extends the benefit of dividend payments. The smallest remaining balance from your Mastercard gift card can be added and used to make an Amazon transaction.